Let Duet grapefruit & matcha tea
Let Duet grapefruit & matcha tea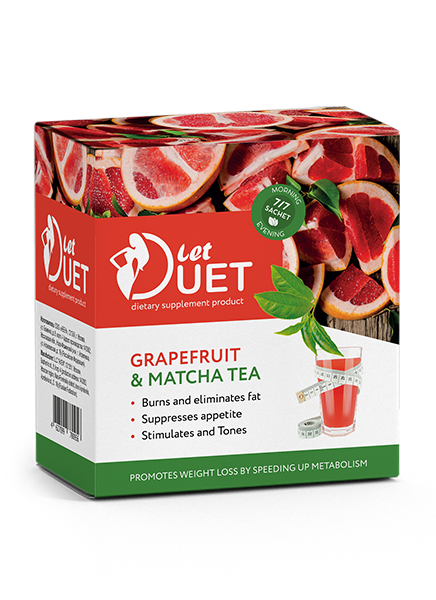 Description
Two phase drink based on natural ingredients for weight loss and appetite reduction that helps you to lose weight both day and night.
Morning drink — helps to speed up metabolism, reduce appetite, burn fat, giving energy for the whole day. Grapefruit contains a lot of fiber that helps control calorie intake during the day.
Evening drink — supresses appetite in the evening and at night, prevents fat deposition during sleep. Matcha Tea helps to normalize the metabolism. It is also a great source of antioxidants, helps to boost the immune system and increase stamina. Lemon Balm Herb Extract calms the nervous system. The drink is rich in vitamins that helps to improve the overall condition of the body and elevates mood.
| | |
| --- | --- |
| Product form/Packaging | 70 g (14 sachet *5 g) |
| Shelf life | 24 months |
| Storage conditions | Store in a dry place at room temperature not above 25°С and relative air humidity not more than 70%. |